Big Changes Expected For Tennessee's Population Through 2070
The University of Tennessee's Boyd Center for Business and Economic Research recently released new projections of Tennessee's population through 2070, and big changes are expected.
A quick look at their forecast shows statewide growth to 9.4 million people – that's an increase of 2.8 million, or 40 percent gain, over the next 50 years or so. The study also looks at projected change for each county and metro area in the state, by race, age, and sex.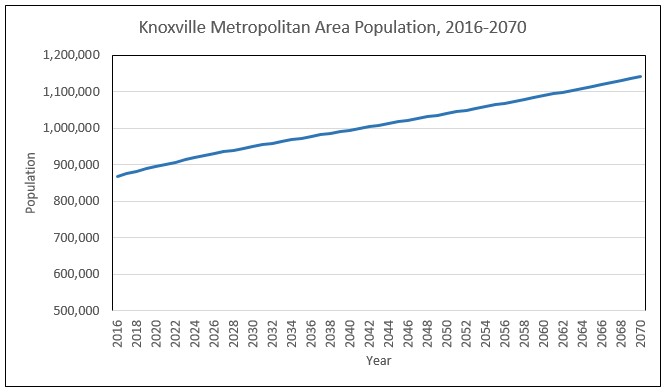 According to the Boyd Center, "these projections are informed by several emerging trends in population over the last decade, including changes in births, deaths, and net migration."
Lead researcher Matt Harris added, "in the future, there is expected to be fewer working age individuals per retiree and greater racial and ethnic diversity.
Most of these patterns in Tennessee are reflective of national trends."
For the Knoxville metropolitan area, a nine-county region comprised of Anderson, Blount, Campbell, Grainger, Knox, Loudon, Morgan, Roane, and Union counties, the Boyd Center reports a current population of 868,546.
They predict an increase of 273,882 people, pushing the region's total over the 1 million mark to 1,142,428 by 2070.
Consistent with statewide trends, look for more diversity in the region's population, growing from 13 percent non-White to 33 percent. We should also see our population getting older – people over 60 years of age will comprise almost 30 percent of the total in 2070, up from 24 percent right now. In fact, if projections hold true, gains in the senior population will account for almost half of all growth in the metropolitan area.
For more information, visit the Boyd Center's website.