What Metropolitan Area Changes Mean for Knoxville and Region
A national company might be looking to expand its reach into new markets. A transit provider needs support funds to grow its fleet of electric vehicles. A chamber of commerce is promoting its community to host a world-class sporting event.
Identification of a place as 'metropolitan' can play an important role in drawing new, external interest and investment to an area. Well-understood, collective status and influence that accompany the title, 'metropolitan.' As a result, metropolitan area designation finds considerable use among private and public sector decision-makers evaluating things like market area, service radius, and customer base.
There are currently 387 metropolitan statistical areas nationwide, and 10 in Tennessee.
The federal Office of Management and Budget (OMB) has delineated metropolitan areas since the 1950s as an effort to keep a standardized, single set of geographic definitions used by federal agencies to identify population and activity centers. According to the OMB, a Metropolitan Statistical Area (MSA) is a core based statistical area associated with at least one urban area that has a population of at least 50,000. The MSA comprises the central county or counties containing the core, plus adjacent outlying counties having a high degree of social and economic integration with the central county or counties as measured through commuting.
Changes in commuting behavior, as a result of the COVID-19 pandemic, could result in many outlying counties getting dropped from their MSAs. Further research on the impacts of work from home, the Great Resignation, downsized workforces, and other pandemic-motivated factors, will be necessary in the coming years leading up to next OMB standards review, in 2028.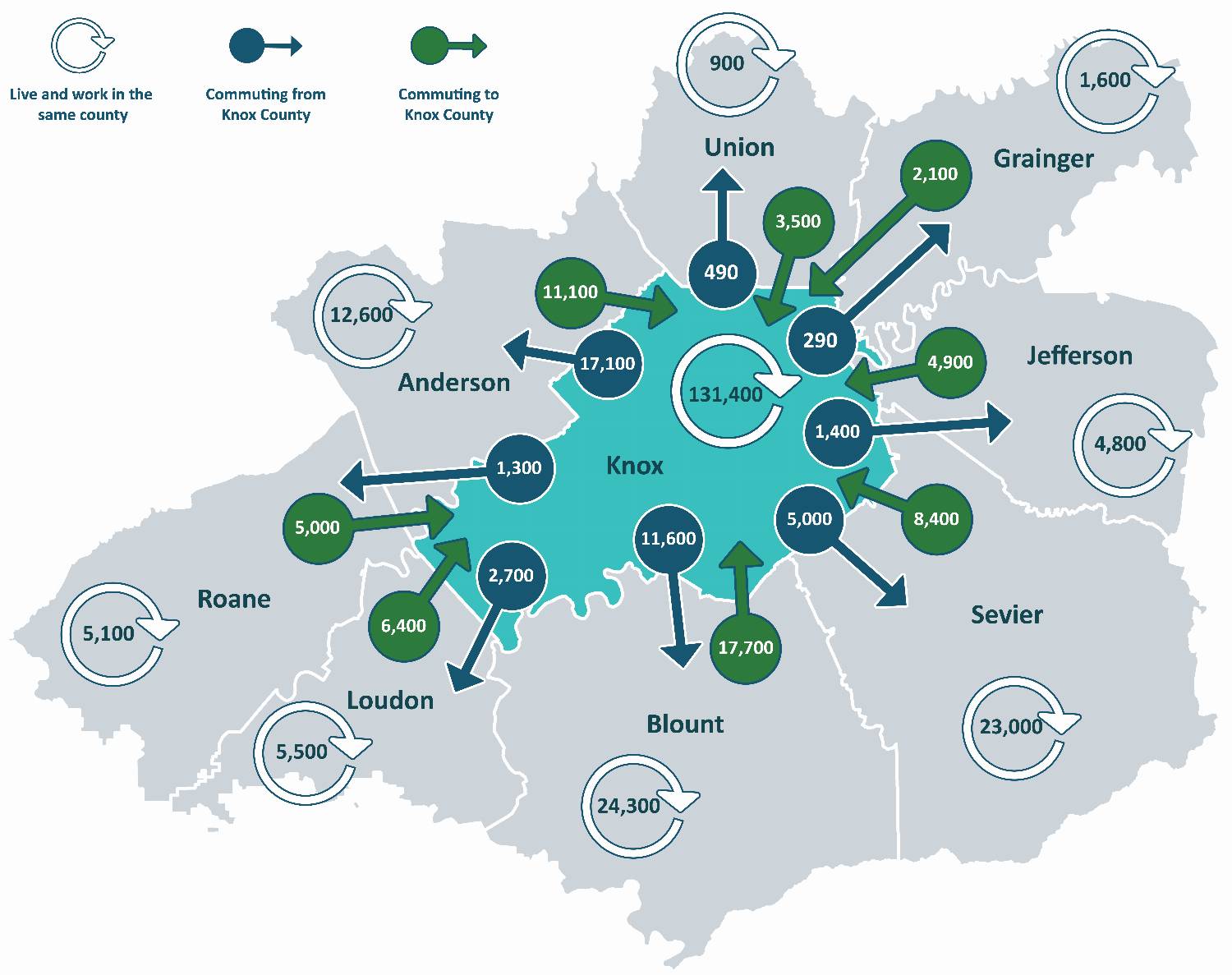 It is important to note that MSA is not exclusively an urban classification – many counties comprising MSAs include both urban and rural populations. About 86 percent of the U.S. population lives in metropolitan statistical areas, an indication that different types of places make up those areas.
Want to know more about our MSA?
Knoxville, TN Metropolitan Statistical Area
Principal City: Knoxville
Anderson, Blount, Campbell, Grainger, Knox, Loudon, Morgan, Roane, and Union counties.
Current population of Knoxville MSA: 932,245.
That's up from 905,831 in 2020. In 2013, the MSA population was 852,046. (Both of these figures are based on the current nine-county delineation.)
If the recent rate of growth (since 2020) holds steady, the Knoxville MSA will hit the 1,000,000-population mark in 2028.
The definition of the Knoxville MSA has changed many times over the decades. As recently as 2009, it was delineated as Anderson, Blount, Knox, Loudon, and Union counties.